Week of 8th February
PLEASE READ AND SCROLL DOWN TO SEE EVERYTHING ON THIS PAGE
On this page there are lots of additional resources you may be interested in, along with the timetable for the week. There are also additional money worksheets as attachments at the bottom. Choose your level of difficulty, as there is lots there for everyone. We are studying money in Maths this week. Remember, I have also informally set lots of 2Do's on Purplemash, if needed.
I also found these (they weren't there at the beginning of our topic as I checked) but they are History lessons for the Ancient Egyptians aimed at Key Stage 2.
10 lessons on Ancient Egypt from Oak National Academy
https://classroom.thenational.academy/units/ancient-egypt-ff66
Click here for link to Ancient Egypt BBC Bitesize Pages https://www.bbc.co.uk/bitesize/articles/zfmwcmn?xtor=CS8-1000-[Discovery_Cards]-[Multi_Site]-[SL08]-[PS_BITESIZE~N~~P_LearningAtHome_AncientEgypt]
Join Greg Jenner for a fun homeschool history lesson on the life of Queen Cleopatra.
Homeschool History - Cleopatra - BBC Sounds
Egyptian Queen Cleopatra tries to sing away her troubles in this song from the Horrible Histories special.
https://www.bbc.co.uk/cbbc/watch/crafty-cleopatra
Weekly Timetable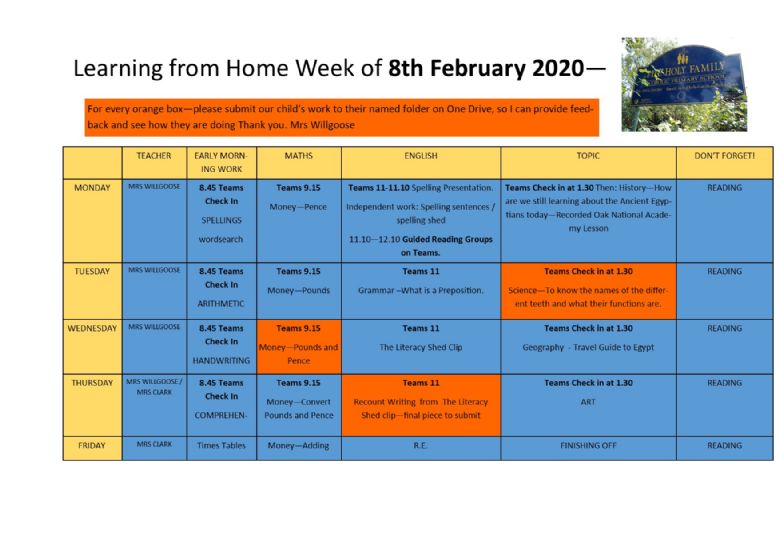 Money Knowledge Organiser