Wednesday 29th April
Wednesday 29th April
Good morning Year 6,
I hope that you had a crafty and creative day yesterday, it was the perfect day for being indoors, but I'm sure that the gardens and green spaces enjoyed a bit of much needed rain! Thank you to everyone who has sent their queen bee stories to me, if you haven't, it is due today. I'm looking forward to reading your work and I will send you a feedback slip by email.
Here are today's tasks:
Joe Wicks PE click here or a sporting/exercise activity of your choice.
Maths White Rose Maths click here complete lesson 3 problem solving. If you find today's activity too tricky, instead, try
Extra challenge
Orange text book – pg 40
Blue text book – pg 56
Creative writing will be linked to RE this week, I have emailed some ideas to help you, along with a painting to look at very closely. To complete this writing, look at the writing instructions and help sheet first, it will guide you step by step on what you need to do next. Today, focus on reading the scripture, looking at the painting and thinking about the key questions. You will have until next Wednesday to finish this piece of writing.
Science – part 2 of Mrs Ferryman's lesson all the details were emailed to you last week. Here is a reminder

Finally, thank you to everyone who has sent their messages for our film, you have until tomorrow to email yours to the class email address.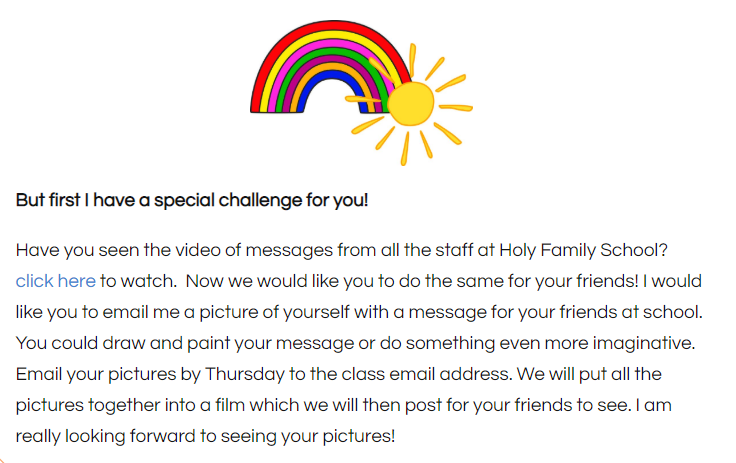 I hope you have a good day,
Mrs Holt x