Wednesday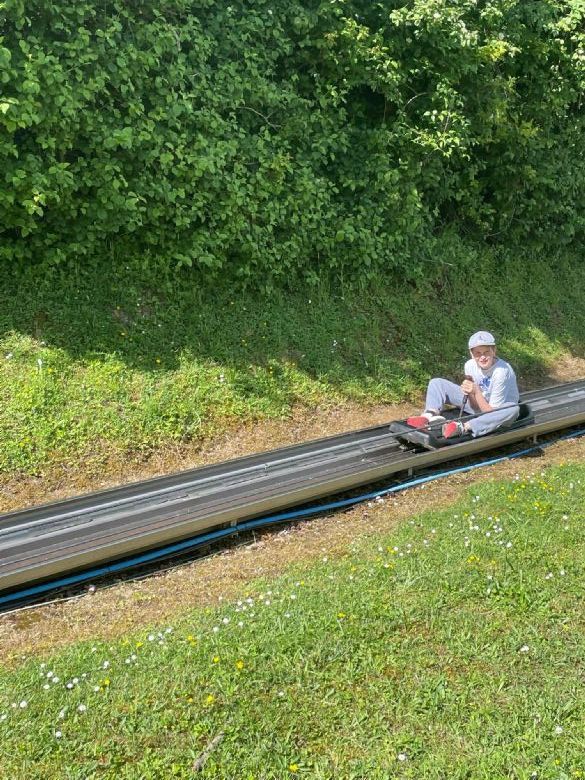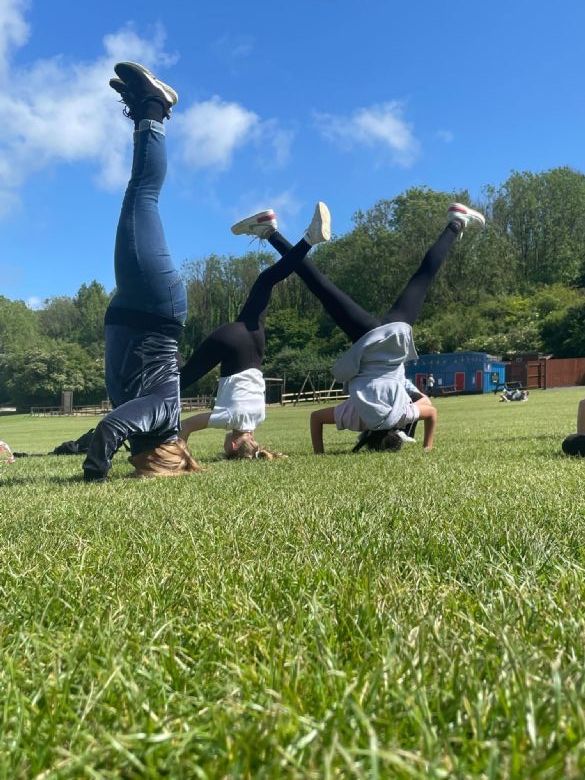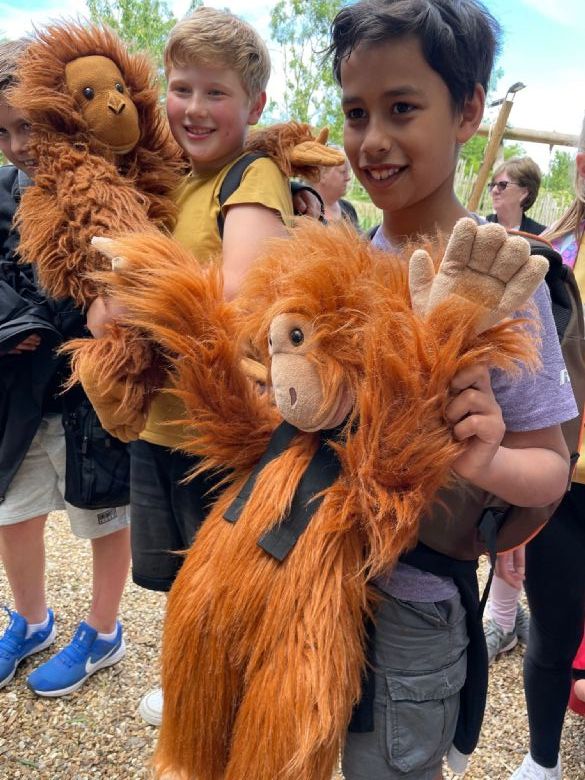 Wednesday 6.45am
Good morning everyone,
Greetings from the red leather Chesterfield sofa in the lounge. It's blissfully quiet here at the moment so I thought I'd give you all a quick update. It's been a very windy night outside and clearly these are not good conditions for asthmatic foxes as, happily, he didn't show up outside my window last night with his wheezing and hacking cough.
A brief explanation on the photos uploaded yesterday. Due to the internet problems here, we're having to type everything on Word then copy and paste to the website via Miss Hunter's phone. In the original script, the photos were placed next to the appropriate paragraph where they had context. We've realised that in reality, they've all jumped to the top of the page so may appear a bit bizarre. For clarity, yesterday's photos were:
"Whoa, look at the size of that pineapple"
George, the bowling champion, caught in action
Bertram meeting one of his mates at Monkey Haven
Mrs Capindale and her electric scooter.
Now, on to the latest news. I've checked the two boys' rooms and all are well…if a little bleary eyed, particularly in Room 3, next door to me. Actually, they're coping amazingly well with the lack of storage in there and I can confirm that all suitcases have been opened. I can also add that they have a massively palatial bathroom…unlike the boys in Room 6 where it the size of 3 phone boxes. Those in Room 3 have assured me they have all been using the palatial bathroom by having at least one shower this week. Parents of Carlos, Luke, Charlie, Henry, Romeo, Robbie and Daniel, we're well on track with this group of boys.
Looking out of the window I can see a glint of blue sky. This is a welcome sight after the grisly grey of yesterday. Let's hope that spreads and stays with us all day at Robin Hill Park. Using my acute sense of hearing, I can hear Mrs Holt gently waking up the girls in Room 1...along with a thump from Room 3 upstairs. They've got a triple-decker bunk in there so I'm hoping the occupant of the top floor hasn't rolled out of bed. Room 3 is the definition of 'floor carnage'. There are lone socks, t-shirts, shoes and shorts strewn everywhere, along with a deadly vicious looking comb with a set of teeth last seen on a saltwater crocodile. I'm now searching Amazon for some steel toe-capped boots before going back in there.
STOP PRESS: You will be incredibly impressed with this… Mrs Holt has just joined me in the lounge after checking on the boys upstairs. Her report is as follows: "I went into Room 6 and they told me that Mr Tindall had shook his head many times and called their room a tip. They've got all their shoes in a beautiful neat row and they've even turned down the corners of their duvets into cute little triangles." This phenomenon is as close to an out of body experience as you'll ever get on a residential visit. Year 6 boys responding instantly to organising their room…this is a definite highlight of my career and I need to witness it for myself.
Mrs Capindale has now joined us and said "Oh my goodness, Room 3 is absolute carnage. It's a shame they can't be like Room 6 who have everything tidied beautifully." What is going on in Room 6? I need to check they haven't squirrelled a couple of mums with them in their suitcases. Back soon!
I've now seen it with my own eyes…it's remarkable…and the boys have been rewarded with £10 from the teacher bank. That's another retail frenzy in store at Robin Hill where, traditionally, boys are drawn like magnets to purchase things such as 'Toxic Waste' sweets and various items of weaponry…which are obviously not a good partnership.
7.45am – We have 10 boys here with us in the lounge. No girls have appeared yet. According to the boys, this is because "they are probably doing their hair and make-up." Nothing much gets past this lot.
It's almost time for breakfast. Speaking of food, it's been very good so far. The children have plenty of choice and the food is both hot and tasty. Dinner last night was tomato soup for starter followed by vegetable curry with rice or cottage pie with vegetables and fruit cake and custard for dessert. Mrs Capindale has returned from a visit to the girls' rooms. Apparently, in Room 1, "they are just sitting on their beds in their pyjamas." If they've still got their hair and make-up to do, we could be waiting a while. I wouldn't advise them to take too long as the boys are likely to polish off their breakfasts for them. Oh, here come Lyla and Ellie leading the girls' charge and greeted by the boys good morning welcome of "What takes you so long?" Marvellous.
Ok, more updates later when we return from Robin Hill. We have a magician booked for this evening so I will post while he is doing his thing. Actually, maybe he's here already? Maybe, therein lies the secret of the tidiness in Room 6? I will leave you to ponder on that thought until later…
The Blog Bloke
5.15pm
Following a short coach journey, we arrived at Robin Hill Park. First stop was the fabulous 4-D motion cinema ride where our first adventure was called 'Amazon'. This was swiftly followed by a second ride to experience 'The Great Wall of China'. The children absolutely loved both rides, particularly The Great Wall, summed up by Maycee who said "That was so realistic; the dragon smoke and fire was brilliant."
Willow Lowden's take was that she absolutely loved it which she had to explain to me after saying "I thought it was too realistic and very scary." The 4-D motion cinema designers would be thrilled to hear that comment. Apparently, I was reliably informed by several of the girls, the louder and more frenetic the screaming, the more they are enjoying it.
We left the 4-D motion cinema and headed off more 'Scream Fest' action down at Colossus, the pirate ship ride. Once again, this class proved their daredevil spirit as everyone went on, except for Admiral Lord Daniel who, supported by his good friend Robbie, watched on from below. Charlotte conquered her fears by sitting in the middle of the boat (this is another example of what the IOW trip is all about) whilst the award for the best scaredy/screamy face, by far, went to Charlie. He was an absolute picture of facial gurning every time the boat reached its apex and began the downward motion.
Changing the pace somewhat, we headed over to the field to watch the falconry display. Mrs Capindale began to twitch and pace around whilst looking nervously over both shoulders, seemingly at the same time. This was her pre-show reconnaissance mission to find suitable safe shelter from low flying raptors. This is definitely not her favourite half hour of the week. She swiftly located the perfect spot at a picnic table protected by a large hedge and was then joined by Mrs Rawlinson. They were chuffed with themselves, donned their sunglasses and smiled across at us...however we managed to get the last laugh. When the bird-handler came out to start the show, he pointed out the official 'dog viewing area' which was heavily populated with greyhounds, a spaniel and two Holy Family LSA's dressed in black. Not wanting them to look like imposters, we swiftly delivered Bertram and Bertie so they both had a creature in tow.
Spike the Eurasian Eagle Owl was first out to display his flying skills…and his 360 degree head spinning skills. I pondered that the latter would be fabulous for a group-leader to have on a Year 6 residential trip to the Isle of Wight. Spike put on a great show and we were educated with some fascinating facts. Did you know that this Eagle Owl has more crushing power in its talons than a Rottweiler has in its jaw? 200 years ago, these owls were widespread in the UK, which probably explains why Rottweiler's weren't introduced to the UK until 1936…they were all refusing to leave Germany until provided with written evidence that the Eagle Owls were not swooping around with their ultra-powerful talons.
Following Spike, was Baldrick the Harris Hawk, a raptor from America. Apparently, these are the 4th most intelligent raptor in the world. They have a very good memory and are superb at problem solving…two qualities which immediately make them hugely overqualified to be the next President. Baldrick was superbly skilled and beautiful in flight; it was a real pleasure to see one up so close to us all.
The last two birds to take to the sky were Saxon the Gyrsaker falcon who can dive at speeds of 170mph and Persia the Russian Steppe Eagle, who was the biggest bird on display. Over in the dog viewing area, Mrs Capindale and the greyhounds hunkered down a little further.
When the show ended we enjoyed a picnic lunch on the grass then made our way down to the lower field for an afternoon of games, slides, toboggan and ice-creams. The sun was out and all was good. In the midst of all the charging about, Charlie announced, with great excitement, "I've found a Paddington Bear 50p coin." I initially thought he'd said "I've found Paddington Bear's 50p coin" and immediately assumed the bear had popped over to Robin Hill for a short break after having afternoon tea with The Queen last weekend. However, Mrs Rawlinson pointed out that Paddington Bear 50p's are quite rare and are trading on the internet for substantial sums…which probably explains why she offered to 'pop it in her purse until Friday for safe keeping.' If the Paddington Bear 50p is such a rare commodity, we may never see Mrs Rawlinson again…unless we stumble across a private island with a huge mansion somewhere in The Carribean at some point in the future. Mr & Mrs Gmehlin, please don't worry, I'll have your 'ticket to a day out at Sothebys' under constant watch until Charlie gets home J
As always, the toboggan was very popular, even at £1.50 per ride. Charlie, boosted by his Paddington Bear 50p discovery, was particularly keen, although he insisted on continuing to ask "Can I have another go on the Tobosco?" It's going to be very interesting next term when Mr Gower first mentions Don Bosco in assembly. Charlie will be up and moving at great speed with his £1.50 looking for the slides J
Down on the field, we held the 2022 IOW penalty shootout competition with yours truly in goal. Anyone can enter and it's sudden death from the start. Score and you're through, miss and you're out. The keeper was in sparkling form with only Henry, Oscar and Riley getting through round 1. Game on. Round 2 saw 2 goals and a miss. The final was won by Oscar who slotted all 3 penalties in the bottom corner of the net. Gareth Southgate really needs Oscar in the World Cup Squad this November for the inevitable penalty shootout against Portugal or Germany. Time for Oscar's parents to check the visa regulations for Qatar…oh, and start drafting a letter to Salesian requesting a term-time absence.
As we were heading back up the hill on the big red tractor train, I was discussing suitcases (as you do) and sea sports with Romeo, Ollie and the penalty king. Sitting in the row in front of me, David suddenly interjected and said "I've got my own wetsuit with me. It's in my case." This was a fraction of a second before Romeo said "David has the smallest suitcase ever…it's tiny." Which surely begs the question 'What on earth does this wetsuit look like?' I'm intrigued and this will enhance my observational skills on Sandown Beach tomorrow morning.
Our final stops in the park were the maze and the shop where the usual retail frenzy ensued. Happily, Robin Hill no longer sell Toxic waste…or weapons…which seriously narrowed the shopping lists for the boys. As if to emphasise my point, on the way out of the shop I met Robbie who said "In tomorrow's shopping, I'm only buying rocks." This is what happens to Year 6 boys when the toxic waste and weapons options are removed. Aspirational retail therapy at its very best. I tried to offer a couple of pieces of advice to young Robbie. "If I were you, I'd just get my rocks on Shanklin Beach…they're free…and, you won't be too upset if Charlie throws them halfway to Guernsey." He was definitely pondering the wisdom of my advice as he headed off to the coach.
As I was leaving, the lady from the shop ran out after me because she wanted to say something. It looked important and she clearly wasn't letting me leave without saying it. "Your children are an absolute credit to you all. They are so polite and it makes such a difference to our work. You'd be surprised how few schools we can say that to each summer." We've heard that before this week but it still sounds wonderful and should continue to make you all feel very proud.
We arrived back at the hotel for 5pm and welcomed Blossom S to the trip…Whoo Hoo, we're now a full family and we're all thrilled. Dinner tonight was vegetable soup, roast pork with all the trimmings or vegetable lasagne and chocolate gateau.
7.30pm The Magician David Randini has arrived and the show has begun. He likes to talk…a lot. 12 minutes gone and no tricks yet…but lots of jokes and puns as cheesy as a Swiss fondue. After asking Daniel how he broke his arm he immediately fired back "Life is like a trampoline, it's full of ups and downs." Lyla's face is a picture.
25 minutes and we have a trick…and it was a good one.
"How did you do it?" someone shouted. "Very well" Mr Randini fired back sharply. Luke believes he has the answer. He's just said "You've got a fake arm" For the record, it's definitely not a fake arm.
He's just done trick 2 with Ellie as his assistant. He talks a lot, but he's very good. Somehow he's transferred 2 sponge balls into Ellie's hand without her noticing. Now, it's Ellie's face that is a picture and Lyla looks transfixed.
He's now doing a trick about 3 fish and has asked the children to name the fish. We've got 'Bob', 'Jiminy' and 'John'…obviously…as these are common name for fish. Meanwhile, Luke is still convinced Mr Randini has a fake arm. Final trick is a cracker with an invisible pack of cards thrown to Harry. He's asked Willow Lowden to take an invisible card and tell everyone what it is. "4 of diamonds" she replied. Out of nowhere, the Great Randini produced a pack of cards with one facing the wrong way. The 4 of diamonds. The children are suitably impressed. Luke, who is sitting no more than 2 feet from the magician, is still insisting the arm is fake.
As a reward for helping him with his tricks, Mr Randini is now making balloon animals for Harry (dinosaur), Willow (snake), Ollie (alien) and Ellie (swan). This could become the latest Year 6 craze; they're very impressive creations…Mrs Cala would love the artistic effect.
Speaking of dinosaurs, the Isle of Wight is often referred to as Dinosaur Isle due to the fact that it has more fossils per square mile than anywhere else…apart, of course, from the Football Association.
This show was 75 minutes of fun and learning and, once again, Mr Randini was exceptionally complimentary about our behaviour, manners and attitude. He also said "I've known this hotel owner for a long time and she rarely gives out praise but she told me you are a fabulous school." The positive feedback is really racking up this week.
9.45pm: We're now up to date and typing in real time. Mrs Holt has organised an A-Z quiz about things we've seen/done/experienced this week and they're up to R. Maycee has suggested "Rip-off' for the Robin Hill shop. I can see where she's coming from. It was quite pricey… although not as bad as Monkey Haven yesterday. All they were missing behind the till was a stripey jumper and swag bag.
We're approaching bedtime for the weary adventurers. They need a good sleep tonight as we're outside being active in the water and on the beach all day tomorrow. To get you right up to date, I don't know what's happened in Room 6; we're back to complete carnage again. I've broken this news to both Mrs Capindale and Mrs Holt as well as the boys. The teachers look crestfallen. The boys don't; as long as they can find their stretchy gorillas, they're happy enough with life. Sadly, one of the aforementioned gorillas has suffered a sudden demise. I was called up to Room 6 earlier to deal with an emergency. The small area of carpet I could actually see was strewn with sand. Nearby lay a wounded stretchy gorilla with a severed abdomen. David Attenborough and Diane Fossey would have been devastated. This guy clearly wasn't quite as stretchy as he thought or, more likely, the wound had something to do with the lethal looking comb with teeth like a saltwater croc. This was back in the middle of the floor like a deadly man-trap. I suspect it pounced as the gorilla was launched from one bunk to another.
I'll leave it here for now and make one final post once everyone is settled.
Until later
The Blog Bloke