Tuesday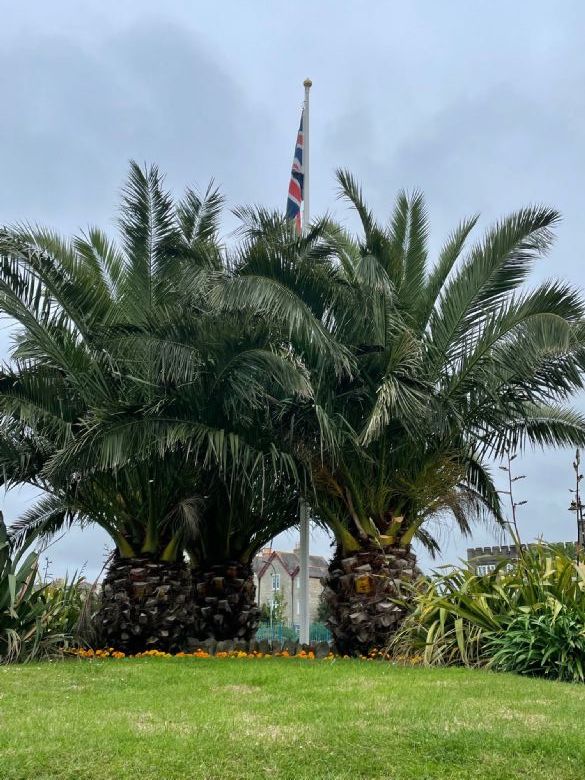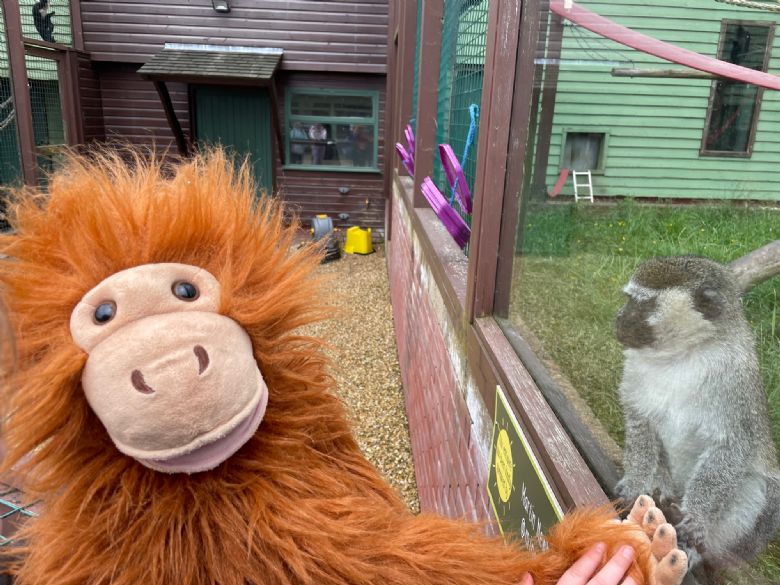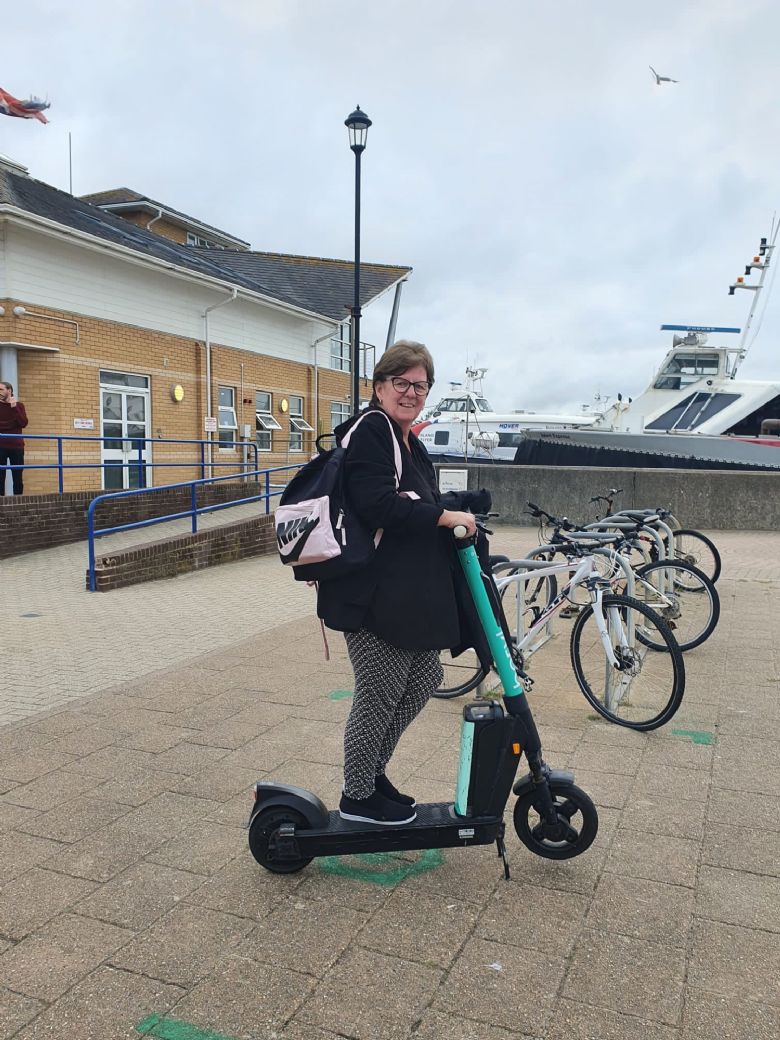 Tuesday 7th June 6.45am (Part 1)
Morning everyone. Unfortunately, it's another morning like yesterday…dull and drizzly however, the weather forecast gurus, via the medium of their I-phones remain optimistic that this afternoon will be brighter. I hope so, and also hope that an IOW afternoon starts at 10amas I don't fancy gazing up into a giant oak tree in the drizzle.
Happily, we have had a quiet(ish) night (more about that in a minute) and the children have slept well. All are in a bouncy mood at the moment, especially in room 6 above as I sit here in the lounge directly below them with Mrs Holt, Bertie and Bertram. Drizzle will obviously not dampen the tree climbing spirits of two young orang utans, they're all set to go already.
Quickly back to the quiet(ish) night. When you're operating on less than 5 hours a night sleep, the last thing you really need is the IOW's very own asthmatic fox to turn up in the hotel front garden at 3.20am. This particular guy needs to carry his Ventolin when he goes out at night as clearly the fresh sea air is not doing him much good. He was hacking, wheezing and coughing for a good half hour out there. If Mrs Skinner was here, she'd be phoning his mum. Apart from the asthmatic fox, all was silent in The Wighthill hotel so I'm hoping he takes his post-midnight socialising somewhere else tonight.
Ok, on to today's fun and games. Breakfast is due in 20 minutes then we're off on the coach to Ryde to visit our friends at Goodleaf Tree Climbing. They describe Hoy Family as 'their favourite school of the summer' so hopefully we're set for another memorable morning. Alongside the climbing of the giant oak, we will also play games in the park and visit the beach. After lunch it's Monkey Haven where all manner of amusing behaviour, noises and antics will surely be observed on both sides of the cage fences. Following dinner tonight, we have tenpin bowling back in Ryde where the Wi-Fi is notoriously bad so the news of the day post is likely to be very late this evening.
Quick stop press news from Room 6…they may resemble a herd of tiny elephants when moving around up there but we have many positives already:
They are downstairs in the lounge first…obviously hungry
Their room is very tidy, resembles a branch of Hollister and smells like the perfume department of John Lewis
They've worked out that getting downstairs first means they're at the front of the queue for the teacher bank
They're all dressed in (mostly) different attire to yesterday.
Well done George, Oscar, Danny, David, Riley, Ollie and Harry.
More inane ramblings later. Keep checking the mini-blog page.
Lots of Love from the red leather chesterfield chair in the lounge
The Blog Bloke
4.55pm
Good afternoon everyone, we've just arrived back at the hotel after an action-packed day out. We have around an hour until dinner so time for me to help you all catch up on today's events so far…
After breakfast, we boarded the coach for the drive to Ryde. As the children filed on to the coach, I noticed Honor sporting a superb retro-style Adidas tracksuit top which was all the rage with the cool people in The Republik of Mancunia in the 80's. It made me feel all nostalgic and clearly had an impact on the rest of the staff who chatted all the way there about retro foods of the late 70's including treacle pudding in a tin, corned beef hash and arctic roll. Before you all come to the conclusion that we have lost our marbles already and it's only Tuesday, this conversation was necessary as the weather outside the coach was truly miserable.
We arrived in Ryde where we made our way into the park to meet the guys from Goodleaf Tree Climbing. Three groups were organised and, despite the constant drizzle, everyone launched into having fun and doing their best. Group 1 headed towards the giant oak tree to get harnessed up, Group 2 went to play Vortex Golf and I was 'volunteered' to lead Group 3 on the orienteering course. This occurred due to a complete lack of enthusiasm displayed by Mrs Rawlinson and Mrs Capindale when they were offered the role. The reason given, I hear you asking? "We're not good at orienteering." (accompanied by hands dug deep in the pockets of the waterproofs)
The huge irony about this is that Mrs Capindale then spent a large part of the morning 'orienteering' herself around Ryde in search of a chemist to buy Piriton after the nearest chemist was closed 'due to illness'. You almost couldn't make it up. Mrs Capindale reported that she had to "walk up 2 massive hills to find somewhere and was so tired so considered getting on an electric scooter back to the coach." She even checked out the small print and only changed her mind when it said she must travel only on the road. This minor rule robbed me of what could possibly have been the highlight of my entire teaching career…Mrs Capindale hurting along Ryde Promenade on an E-scooter would have been epic.
Real credit once again to the children this morning. It never stopped drizzling the whole time but they never stopped enjoying themselves and having a go at everything. Up in the canopy of the giant oak, our natural tree monkeys turned out to be Henry, David, Riley, Maycee, Maia, Lyla, Honor, Grace O, Ellie, Romeo & Blossom W – I reckon if they introduced a tree climbing relay into the district sports, we'd storm it. Which reminds me, if the district sports introduced a 'throwing rocks into the sea competition, Charlie would beat everyone. Last night on Sandown Beach, he was hurling stones halfway to The Channel Islands.
Best comment up in the tree came from Honor, displaying true positivity and resilience. Faced with a narrow gap between branches, she said "Oh, this looks really difficult but that's good. I like a challenge." She doesn't just look like a retro Mancunian, she has Mancunian grit. The highest praise I can give to the children about this activity is that every single one of them went for it. Even Daniel, if not resembling Admiral Nelson with only one working arm, would have gone for it if he was allowed. Tree-mendous!
Walking back to the coach after the tree climbing I discovered, unbeknown to me, that Danny and Luke are clearly being paid this week. As we strolled along the prom, the two were discussing shopping strategy for the next few days when Luke said "I'd wait until Thursday to spend big as that's when we get most of our salary." Danny nodded and agreed. I need to talk to the school business manager about when these two were added to the payroll.
After a short coach journey we arrived at Monkey Haven and ate a well-earned picnic lunch before meeting our tour guide Lily-Mae. Monkey Haven is a rescue sanctuary for primates that have been mistreated, abandoned or hunted & injured in the wild. The majority have suffered trauma and are nursed back to health through a careful plan of rehabilitation. I'm considering checking myself and some fellow MUFC fans in for a period of at least the next 5 years whilst Erik Ten Hag attempts to rebuild a broken club.
Lily Mae led us around to visit the different species of monkeys and primates and gave a very informative talk at each enclosure. Capuchins are, apparently, one of the most intelligent primates in the world. This puts them well above government ministers and people from the DfE. They also have extensive knowledge of how to make and use herbal remedies; if they set up a jazzy website, they could make a fortune in the alternative medicine business. Moving on, we visited Kookie, the laughing Kookaburra who starts laughing very early in the morning. Bearing in mind our staff absence rate this year, I asked if Kookie may be available for supply work as laughing a lot means he'd fit very well into the staff room at Holy Family. I reckon we could give him a very good run for his money in a head-to-head laugh-off competition. I'll leave you all to select the HFS competitor.
Over at the gibbon enclosure, Lily-Mae informed us that they can travel at a top speed of 35mph when swinging through the trees. Interestingly, in our experience this week, it means they could traverse the island much quicker than the traffic. Lily-Mae asked many questions, including "Does anyone know where gibbons originate from in the wild?" I was expecting one of several answers from our clever lot. 'Asia or South America' maybe? I wasn't expecting what we got…which was "Portugal." I was a little away from Oscar when he said this so thought I'd better check with him. I sidled over and asked him. "Yes, Portugal" he replied. Portugal have a star-studded team as it is…Ronaldo, Bernardo Silva, Ruben Dias, Joao Felix, Bruno Fernandes, Diego Jota to name but a few. If we add a gibbon who can travel at 35mph down the wing, I reckon they'd win the World Cup in Qatar later this year.
Next up were the Colobus Monkeys, including one named 'Thumbelina'. This is a particularly satirical gesture from the park keepers being that Colobus Monkeys have no thumbs…which probably accounts for why you've never seen one hitching a lift up the M6. Apparently, they also have no facial muscles that allow them to smile…which makes them the perfect candidates for a role as an Ofsted inspector.
As we left these serious looking but beautiful creatures, we headed around to look at the owl enclosures where one of the boys said "Look at that one, it's just sitting there doing nothing." Now, there's been some serious irony this week but this comment was not lost on myself. It tops them all so far. As I was chuckling to myself, my moment of reflection was broken by Ollie who excitedly announced "Look at that one, it flies." I'm sure any self-respecting Eagle Owl would list 'flight' as a basic requirement of the job but it certainly got Ollie revved up.
In the reptile house, Ollie was on form again. Pointing at a large glass cage with the sign 'Royal Python' inscribed above it, he said "Look under that log, there's a massive spider….oh no, wait a minute, I mean a massive snake." The moral of this tale is that If Ollie ever tells you to get out of a room because there's a massive spider in there, I'd get out quick. You don't want to come face to face with a python.
I'll finish here for now as we need to head out to bowling (I've had a break for dinner). A short funny to end on…Just before dinner tonight, whilst I was typing, I heard Mrs Holt taking orders for dinner tomorrow evening. She said "The soup is vegetable" to which one of the boys responded "Mrs Holt, what's in the soup?" Classic Isle of Wight. Year 6 children on a residential…the gift that keeps giving.
More news later.
Bye for now.


8.30pm:
The frenetic action in Ryde Super Bowl is underway but before that, the gifts keep on coming. Try this one for starters…delivered by one of the boys outside the bowling alley…"Whoa, look at the size of that pineapple!"
We could stock the shelves in Tesco with tins of pineapple chunks for months with that specimen.
In the bowling, the action in lanes 2 and 3 was rapidly resembling the Premier League title race…well, at least it was in points terms, if not team terms. Midway through the game, Oscar was leading George by a single point. For an Everton fan, this was dizzy new heights and yet another retro trip to the 1980's. The question was, would the blue side of Stanley Park eventually fare better than the red half did in the Premier League showdown?
As the second half of the evening unfolded, the tension increased, you could cut the atmosphere with a knife as a whole raft of people came with a late charge on the leaders. The lead swapped hands several times and the whole things became more surreal as Chelsea and, amazingly, both Arsenal & Man United appeared out of nowhere to challenge the Evertonian. The see-saw battle went right to the final two bowling balls to fly down the lanes. The final results are shown below
Top 10 Individual scores:
Winner: George 117
Runner-Up: Romeo 114
Third Place: Willow L 110
Blossom W 106
Charlie 105
Oscar 102
Riley 102
Ellie 100
Charlotte 99
Maia 98
So, there it is. George regained the pride of Merseyside for the blue half by winning the title. Something to chat to Mr Klopp about next time he bumps in to him in Stanley Park.
MUFC fan Romeo achieved something Ralph Rangnick couldn't do and hauled himself up to second…a sensational late run…but then again, Romeo wasn't trying to do it by relying on Fred to fire a ball straight at the target. Huge congratulations also to our bronze medallist and girls' champion, Willow Lowden, with a superb total of 110. A Golf starlet on Monday and now a bowling genius on Tuesday. She's having a sparkling sports week here on the Isle of Wight.
For the team competition, Lane 3 took the spoils by sharing a massive average points score of 98.6 per player. Well done to the whole team!
Team Scores:
1st: Lane 3: 493 (5 players) Avg score 98.6 (Danny, Oscar, Ollie, Ellie & Willow L)
2nd: Lane 6: 571 (6 players) Avg score 95.2 (Harry, Romeo, Maycee, Tegan, Alexia & Admiral Lord Nelson of Addlestone who scored a sensational 97 points with one arm)
3rd: Lane 2: 461 (5 players) Avg score 92.2 (George, Honor, Maia, Anna-Liis, Luke)
4th: Lane 5: 546 (6 players) Avg score 91.0 (Blossom, Willow S, Robbie, David, Henry, Charlotte)
5th: Lane 4: 515 (6 players) Avg score 85.9 (Elsa, Charlie, Carlos, Grace C, Lyla, Riley)
On the way back to the hotel, Tony the driver put the football on the radio. England were 1-0 down with less than 20 minutes left. Various shouts of "Come on England" started up on the coach and they promptly won a penalty, converted successfully by Harry Kane. It appears Holy Family Year 6 have a positive influence beyond the island this week.
The weather has been decidedly non-summery today but the group have overcome this and pressed on regardless. We could do with a better day tomorrow as we're outside at Robin Hill Park all day. None of use really fancy another day in the rain…especially Mrs Capindale who is likely to get very wet lying prostrate on the floor to avoid the eagles, falcons and hawks in the birds of prey show.
I'm going to finish tonight with a few quotes from the children about the trip so far:
"It's been amazing" (Daniel)
"We're all having so much fun" (Riley)
"We're very lucky to be on this trip, it's so much fun" (Willow L).
10.30pm
It's bed time for the exhausted travellers. Mrs Holt is currently delivering her pre-sleep motivational talk on a swinging watch. We all need to sleep well. I'm off to put signs on the lawn saying 'No Trespassing. Asthmatic Foxes will be prosecuted.'
Lots of Love from the whole team here in cloudy Sandown
The Blog Bloke