Thursday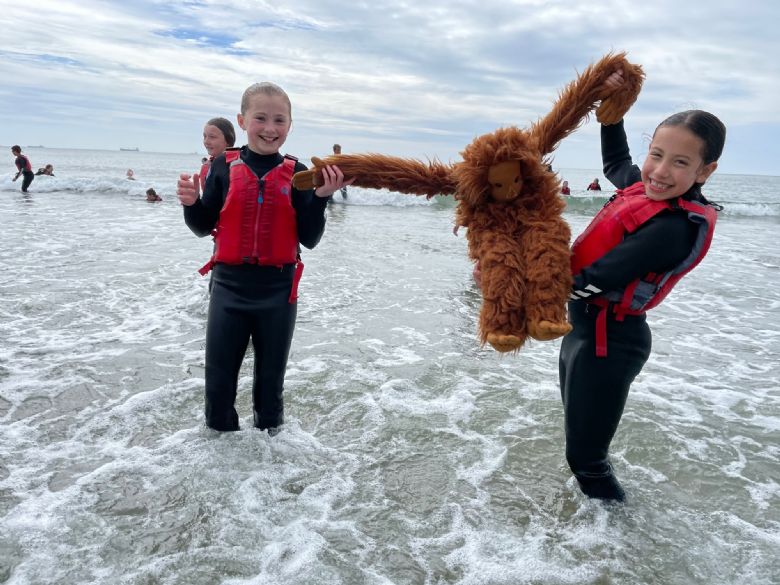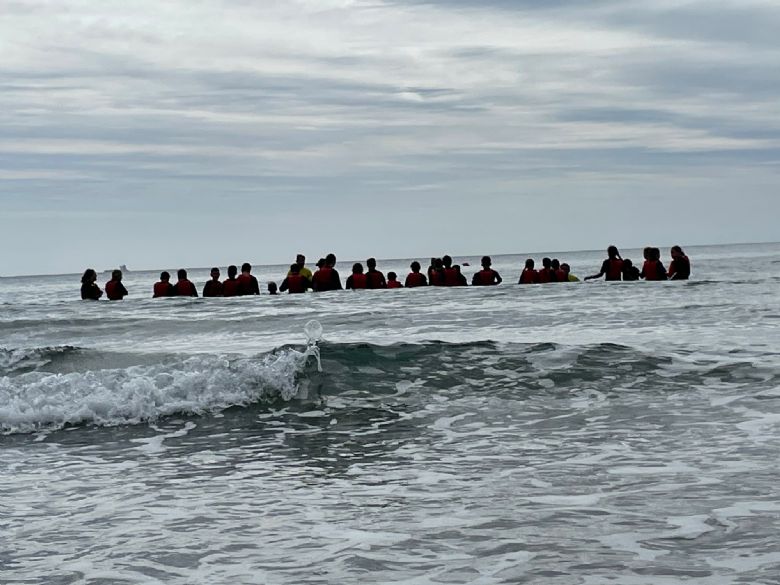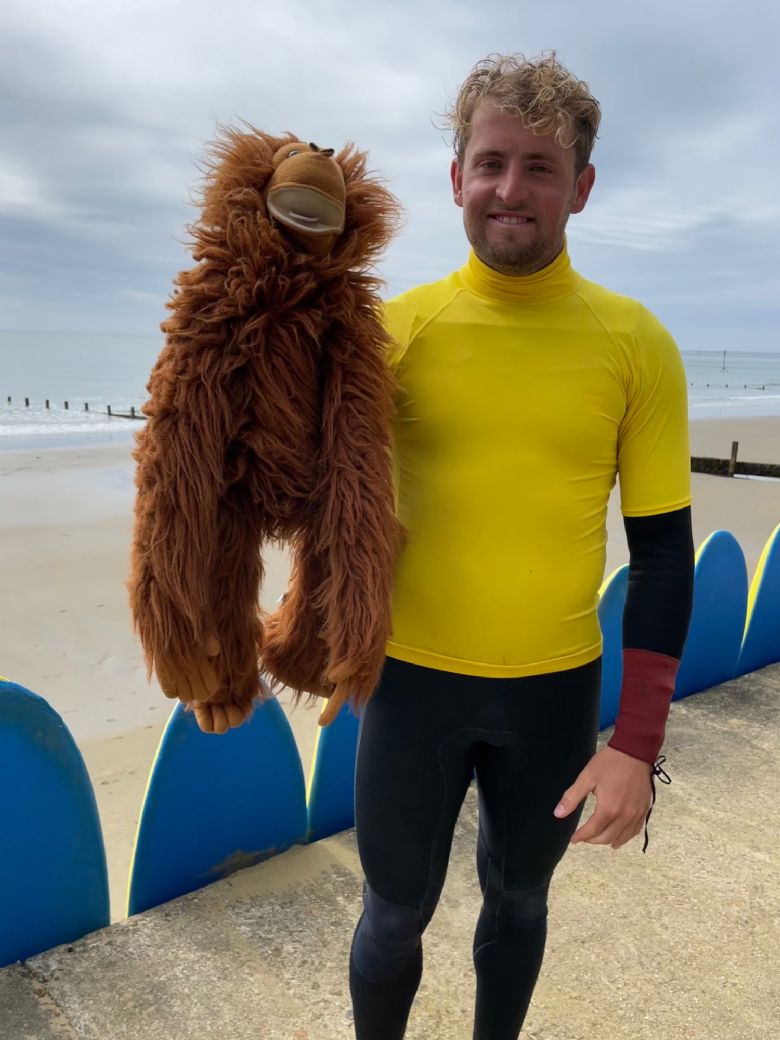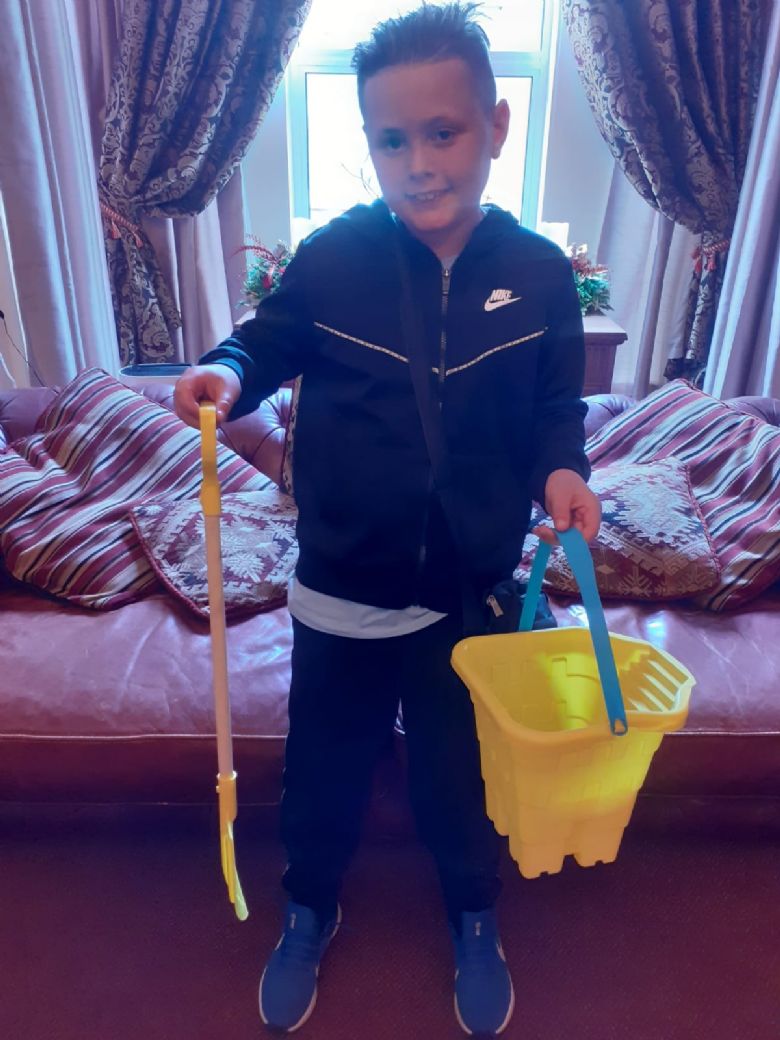 Thursday 6.45am
Good morning everyone from a beautiful, sunny Sandown. Weather forecast suggests the best hours of today are going to be from now until 10am so I'm making the best of it. No rain forecast but perhaps a bit more cloud later. This may not be too bad for being on the beach. Mrs Holt and I are enjoying a few moments of peace before we begin the circuit to wake the children up. As always, Mrs Holt has led this trip superbly, displaying organisation, patience, humour and empathy. Along with Miss Hunter, Mrs Capindale and Mrs Rawlinson, the Holy Family staff have provided a memorable experience for the children. The Great Randini summed it up perfectly last night when he said to them "Your school and your teachers have given you the most wonderful start in life. Not all children have that privilege."
Mrs Holt has started at Room 1. She is using her very gentle 'waking up' voice. I can hear some response from the girls, they are discussing clothing strategy for walking to/from sea sports. This is a very good start for a Thursday in the Isle of Wight. I'll be heading up to Room 6 in a minute to see how the boys are. They've been awake every day before I've got there so I'm intrigued to see if that's the case this morning.
Stop Press: They were not awake in Room 6 this morning but did respond well to the Head teacher alarm call. I suggested they don't need to shower before breakfast as they will be going in the sea and will shower afterwards. David responded "I think I might shower as I want to wash my hair for the sea." Bearing in mind he has his own wetsuit, and is therefore classed as a professional, this could be significant and raises several key questions:
Do fish prefer surfboarders with freshly shampooed hair?
Does freshly shampooed hair make you a better surfer?
Was David previously part of the Baywatch cast with David Hasselhof and I just haven't noticed?
Perhaps we will solve these mysteries later.
From the bottom of the double decker bunk, Oscar's first words of the day were "There's a screw loose down here." "That's an occupational hazard when you're a teacher" I replied. Oscar's head appeared. He looked slightly bemused. It was either my response or the fact that he had a long black screw in his hand which was so loose it had come out of the frame. Interestingly, it was only this morning that I noticed Room 6 have a mount for a plasma TV screen on the wall…but no TV. I looked at the suitcases lined up on the floor. Clearly it's not in David's tiny case but it perhaps explains why Ollie has brought a very wide case with him.
First child to join us in the lounge this morning is Grace O who looks very organised for the sea. She has her sea shoes on and is ready to go… although hasn't 'washed her hair for the sea'. She obviously doesn't subscribe to David's pre-surfing hair prep routine.
Ok, it's breakfast time. The children are gradually appearing here in the lounge. Most have adopted the sitting still with a vacant long distance stare position which is a common sight by Thursday morning…apart from Charlie who has just given his theory on the secrets of the magician last night. "He was obviously stuffing those hankies into a secret compartment in his ring on his hand." I accept the wedding ring was in his left hand and this hand was attached to what Luke described as his fake arm, but I'm struggling to see how two large hankies could ever fit into a wedding band. That's' the magic of a magician I guess…or the magic of Charlie's imagination.
Bye for now. More random thoughts will be posted this evening. Everyone is happy and enjoying a wonderful week here in Sandown.
The Blog Bloke.

5.45pm: Good afternoon everyone, we have just returned from another very busy, non-stop day of fun activity. I'm not sure how tired the children are, but the indefatigable HFS staff team are showing some cracks in their energy armour which means I am seriously considering investing in some battle armour for myself (more about that later). I may need to sneak out to Carisbrooke Castle during dinner to see if they have any spare chainmail.
Today the weather has not exactly resembled high summer but at least we've not had any drizzle or rain to contend with. It's been adequate; those who wanted to get wet today went in the sea, and that's how it should be in June as far as I'm concerned. Dinner will be served in 15 minutes time. Tonight, the choices do not include a starter. There is no soup which has really disappointed me as the soup has appealed to my sense of humour all week. You really have to be here to appreciate why but, if anyone has ever seen the classic 'Two soups' comedy sketch starring Julie Walters, you perhaps can get the general gist of where I'm coming from. The choices tonight, however, do include burger or hot dog for main with doughnuts or ice lollies for dessert. I've just been reliably informed by Lyla that the lack of soup is due to the fact there's extra party food on offer later tonight. Oh well, every cloud I suppose.
I will be back later this evening with a full update on the crazy capers of the day. Check back for your daily dose of madness, along with some photos of the day.

7.15pm: Dinner has been polished off and I'm back on the red leather sofa in the lounge. Whilst the children get dressed for the party, I will rewind to this morning and update you all on all the action of the day.
Around 9.15am, whilst waiting to leave for sea sports, I was joined in the lounge by Willow Lowden and Bertie, who was looking very suave and sophisticated. Willow had slicked back his hair and brushed his fur. Now that he and Bertram have escaped the captivity of a black bin liner in the Year 6 cupboard, they're loving every minute of the trip. I must admit, the 2 orang utans have never been loved or included more in the trip than they have this year. This class have really taken to them and entertained many members of the public in the process. It's been wonderful to watch. Carlos then joined us carrying a very small swim bag.
"Have you got your towel in there?" I asked him. He nodded confidently before opening his bag with a flourish and producing his magic towel. Carlos clearly has a tardis as a swim bag. He needs to get a summer job with The Great Randini.
As we were getting on the coach, the last one aboard was Alexia who today was sporting the latest in her line of classic rock band t-shirts. Yesterday it was The Killers and today The Doors. I like her style. After a short drive and a walk along the prom, we arrived bang on time at Wight Water Sea Sports. Scott and his team were all set for us and they quickly launched into their instructions for how to put on the wetsuit and buoyancy aid. It's a well-oiled speech:
"Where does the zip go?" "At the back."
"Where do the knee pads go?" "On the knees."
"The wetsuit will be inside out when we give it to you. What do you do with it?" "Turn it the right way out."
Every year, these instructions are repeated back perfectly by Year 6 classes…before they then get everything wrong when handed a wetsuit. This year, it was remarkably smooth. I was searching everywhere for a victim with the zip at the front to include in this blog but I searched in vain. It was all slipping away when suddenly, from behind me, I heard one of the instructors say "Where do the knee pads go?" I turned around. Luke's knee pads were covering his shins, which explained why he was struggling to do up the zip at the back.
Once they were all suited and buoyancy aided, the instructors led the children down onto the beach for the warm up. After my conversation with some of the girls at Robin Hill yesterday, I knew all the children were loving the games they were playing due to the amount of screaming coming from the sand and water. This was a promising start. Before long, they were in pairs, a surf board between them and heading into the waves. First up on his feet on the surf board was Ollie followed by Oscar and Romeo. Looking good for the girls were Lyla and Grace O but the most significant comment I can make about the surfing is that every single one of the class threw everything they had at this activity. They loved it and not a single child asked to leave the water for the entire 2 hours. What a superb effort from every child.
On the way back to the changing rooms I caught up with some of the intrepid water babies for a quick snippet of their thoughts:
"It was exhilarating" (The man with the magic towel)
"It was really great fun, even though the water was very cold." (Charlotte)
"It was cold…and wet." (Where do the knee pads go Luke?)
"I didn't want to come out in the end." (Blossom W)
Finally, I caught up with Harry, who had amazingly morphed into a Cockney Darth Vader whilst in the sea. Think a very hoarse Danny Dyer and you've got the picture. Something stole Harry's voice box while he was in there.
"How was it Harry?" I asked.
"It's been a new experience for me as I've never been surfing before. I enjoyed it"
…'Skywalker, I am your Father…C'mon you Irons, jellied eels' (a bit of artistic licence from the author here!)
Before sending the children to get changed, Mrs Holt gave a very detailed changing room pep talk reminding them all not to leave anything behind and promising biscuits when they were changed. "I expect the boys will be out first…without most of their stuff" I whispered to Mrs Capindale.
True to form, they came pouring back out in no time and began munching their way through chocolate digestives. I jumped on to EBay, set up a 'Lost property flash sale…location Sandown Beach' alert and headed off to the changing rooms. I did well in there; 2 minutes later I had bidders from 5 continents battling it out for one blue sock, one black sock with a very nice orange dog logo, one pair of grey jersey shorts, one pair of tracksuit bottoms, a pair of sliders, one very stylish water bottle and one complete white JD kit bag. If you don't see me around until September, I've booked a round the world cruise on the proceeds of my beachside changing room foraging expedition.
Prior to leaving the hotel at 9.25am, Mrs Holt had issued highly detailed instructions on what to pack in the bag for the walk back from sea sports at lunch time. It wasn't a long list but it was important:
Fleece/jumper, trainers, tracksuit bottoms, socks, underwear. You can probably guess what happened next.
Mrs Holt: "George, have you got some long trousers?"
George (standing on the prom in his shorts): "Yes."
Mrs Holt: "Good, where are they?"
George: "In my suitcase."
Mrs Holt: "Charlie, what are those on your feet?"
Charlie: (looking down at his feet): "My sliders."
Mrs Holt: "Where are your trainers to walk back in?"
Charlie: "In the hotel."
Mrs Holt: "Oscar, have you got a fleece or jumper to put on to keep warm?"
Oscar: "Yes."
Mrs Holt: "Good, where is it?"
Oscar: (looking frantically at his empty shoulders) "In my white JD bag…oh, wait a minute…"
So, we set off back along the promenade to the hotel for lunch. George in his shorts, Charlie in his sliders and Oscar happily reunited with his jumper and his white JD Sports bag. They were happy enough and therefore, so was I.
Lyla and Honor had joined me at the front of the line and we became engaged in a conversation about the merits of various savoury snacks which suddenly took a sharp turn when Lyla said
"Sardines are lovely."
"Are they classed as a savoury snack?" I asked.
"Are you mad?" Honor said.
I looked. Honor looked back. The penny dropped and she burst out laughing. "I mean, Lyla is mad eating sardines" she quickly added. Little does Honor know…madness is a side-effect of teaching.
Honor then quickly progressed to a guided tour of the best eating hostelries in NW Surrey. If you're looking for a good meal in a pub, The Standley Guide (a step up from Michelin) recommends The Bird in Hand. I'm not sure how, but we then switched to a discussion about bands. Following Honor's superb Adidas retro tracksuit top and floppy bucket hat the other day, I have come to the conclusion she is a true Mancunian child of the 80's. Anyone who classes 'Girlfriend in a coma' by The Smiths as one of their favourite songs is a hit as far as I'm concerned. Apparently, Honor gets her love of this era of music from her mum, rather than her dad "who listens to old-fashioned stuff from when he was young." Work that one out if you can. All can say is that Paul is looking very good for someone who must have been hanging out with the Teddy Boys in the early 50's.
We arrived back at the hotel and got the picnic lunch out. I don't know how I've missed it this week, but lunchtime has launched a new line of trade on the international stock markets. Forget Bitcoin, gold or barrels of oil, the new up and coming line to get into is crisps. As soon as the lunch bags were handed out, furious bartering and negotiating of flavours erupted everywhere. If you're thinking of investing your hard earned cash, according to the actions of Year 6, shares in Cheese & Onion are currently low whereas Salt & Vinegar shares are going through the roof. It was mesmeric and I even got dragged into it myself by getting a bargain deal on swapping my Ready Salted with Willow Scott for her Salt & Vinegar. Even Mrs Holt was at it, swapping her Salt & Vinegar with Carlos for his low value Cheese & Onion. Perhaps Mrs Holt knows something the rest of us don't?
After lunch, we got ready to go to Shanklin Beach for the sandcastle competition. I was sitting in the foyer when the Cockney Darth Vader appeared from upstairs carrying a spade and a large yellow bucket.
"Where did that come from?" I heard Mrs Capindale ask.
"I brought it in my suitcase. My mum packed it for me" he rasped without batting an eyelid.
His suitcase? There's some really weird stuff going on this week with suitcases. Ollie's wide suitcase and the missing plasma TV, Harry's large yellow bucket and David's tiny case with the wetsuit. He'll be telling me next that he's brought his paddleboard as well. I'm half expecting someone else to turn up at the party later tonight and produce a full DJ sound deck and lighting rig from a backpack!
Down on the beach, the sandcastle competition began. Mrs Holt had allocated teams based on their rooms and they swiftly got to work digging, scraping and scooping in the sand. 45 minutes later, we had some great pieces of sand art but the best creation by far was 'Wembley Stadium' sculpted by 'The Air Force Girls' from Room 16. These 4 are not from the armed services but wear Nike Air Force trainers…oh, and because this is the smallest room, they were allowed a substitute off the teacher bench. Miss Hunter was drafted in. Congratulations to Grace O, Ellie, Willow L, Maycee and Miss Hunter. I have to say, it was a seriously impressive stadium…and it cost considerably less than the £800 million paid by the FA. It was so good, members of the public were walking onto the sand to take photos of it!
Final stop of the day was the shopping frenzy on the seafront. I wandered over to check what was in the queue heading towards the tills. It was a sugar-rush on legs; candy dummies, fizzy drinks, chocolate, sweets and rock, along with some very thoughtful souvenirs and gifts.
Approaching the tills I spotted Robbie, edging forward to hand over the spoils of his retail experience. I was very happy to see he had heeded my advice offered, free of charge, at Robin Hill yesterday. There were no rocks on the counter however, cleverly, he had removed the 's' and bought several sticks of rock. Perhaps this was his intention all along? Now it was my time to walk away and ponder deeply.
We started the long uphill walk back to the coach park for the short ride home. Mrs Rawlinson & Mrs Capindale offered to take the cliff lift with the bag of buckets and spades and 'meet you all at the top." I got the impression my response wasn't the one they were hoping for. The chins in the staff energy armour were beginning to show but Miss Hunter and I were quite happy carrying the bags. This is when I started to ponder the potential benefits of body armour. Shortly afterwards I heard Tegan telling Mrs Capindale that "Her legs were falling off." I pondered that this was not a helpful contribution from Tegan. Pouring fuel on the fire came to mind. When you're going uphill, and it's a steep one, my philosophy is to press onwards and get to the top so we did. We waited for Mrs Rawlinson to arrive at the top. I couldn't resist the temptation.
"Mrs Rawlinson, it's your turn to carry the bag now" I advised with a smile.
By the time we reached the coach, I was actually at the back of the line due to being on road-crossing patrol at every junction. I handed the bag of buckets and spades to Tony to put in the hold.
"Is that everything?" he asked.
"Yep, I think so." I replied.
"Where's the baseball bat, I haven't seen it?" he asked. The last time I'd seen the baseball bat, it was in the hands of David. I wasn't unduly worried so boarded the coach. Down the aisle at the back I saw Mrs Rawlinson wielding the baseball bat. This is the moment when the trip to the armour department at Carisbrooke Castle was born.
Back at the hotel we ate dinner then got dressed up in the glad-rags for the disco and party games. As I furiously type this for you all to read, our truly amazing staff team are in there with the children continuing to run on supercharged Duracells. They are an amazing group and I'm so proud of them all. They've worked tirelessly and selflessly all week and have provided your children with memories that will hopefully last a lifetime. We're very blessed to benefit from their skill and commitment and I'm very privileged to be able to call on them to deliver anything I ask of them.
I'll end here for now but will be back later. I want to catch the end of the party before we begin the big pack up operation. I'll be back later with more meandering ramblings.
See you all soon
The Blog Bloke
11.00pm: Well, we've tried to get everything packed for the ridiculously early start tomorrow. Working backwards, it's 9.30am sharp at Osborne House, 8.40am departure from the hotel, 7.30am for breakfast, 6.15am wake up, pack and get suitcases on the coach. It's a tight itinerary and will require a herculean effort, a strong tail wind, and a huge slice of luck if it's going to work. This hotel is a treasure trove of curios that don't quite relate to each other but sort of fit in a strange kind of way. Reminds me a bit of Swiss Cottage at Osborne House. Bearing this in mind, I'm off to find a lucky horseshoe, a rabbit's foot, a leprechaun carrying a four-leafed clover and a genie bottle…hopefully that may help. If it doesn't, I've got the phone number of the SAS.
It's traditional on the final night for the blog to feature a roll call of film credits from the hotel rooms so here goes. This year, the children named their own rooms in a spectacular ceremony on Monday evening:
Room 1: The Emo Girls (Blossom W, Tegan, Anna-Liis, Blossom S, Elsa & Grace C)
Room 2: The Honey Bees (Lyla, Maia, Alexia, Honor, Charlotte & Willow S)
Room 3: Griddy Land 21 (Charlie, Carlos, Henry, Luke, Romeo & Daniel)
Room 4: Mr Tindall
Room 5: Mrs Capindale & Mrs Rawlinson
Room 6: Binley Mega Chippy (Harry, Riley, Ollie, David, Danny & George)
Room 15: Miss Hunter
Room 16: The Air Force Girls (Grace O, Ellie, Maycee & Willow L)
Room 17: Mrs Holt
Tomorrow morning we will find out who the hotel owners have selected as the winners of the tidiest room competition. I haven't seen the girls' rooms all week so don't know how tidy they've been but still won't be rushing down to Ladbrokes to lump any money on Rooms 3 or 6. They've got less than a zero chance of winning.
Mrs Rawlinson is sitting beside me at the moment, reading the news on her phone as I type. She informs me that they've found the largest ever land-based dinosaur predator skeleton here on the Isle of Wight. Apparently, it was huge and white.
"Is it called The Needles?" I asked her.
By all accounts, "No it's not!"
It was found in Compton Chine and has some long convoluted name with a spelling similar to one of the words on a Year 1 phonics screening test
As a final message tonight, I would like to say a massive thank you to all of our wonderful parents. I have told your children this evening that this trip would never have happened without your support, financial backing and your trust in the school. 3 years is a long time between residential visits and the children this year have truly benefitted from a fantastic partnership between home and school. I hope they give you all a proper thank you this weekend.
Until tomorrow, it's goodnight and God bless from everyone here at The Wighthill Hotel in Sandown. See you all around 4pm.
The Blog Bloke