Hockey Team Bag Brilliant Bronze!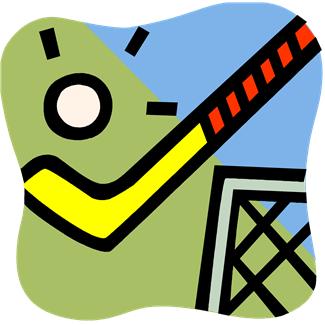 Third Place Finish for Year 6 Hockey Team in Active Surrey Tournament
On Tuesday 20th November, Holy Family joined 10 other schools from the local area in a hockey 'Quicksticks' tournament organised by the 'Active Surrey' team. The tournament, held at Ashford Hockey Club, was the culmination of 4 weeks free coaching delivered in school by 'Suburban Hockey' as part of the Olympic legacy. One of the main goals of this programme was to introduce children to a new sport and encourage enjoyment and participation in the future. Judging by the smiles and excitement on the faces of all children on Tuesday, this goal has certainly been achieved. So, on to the action out on the pitch…
The hockey club was shrouded in a dark veil of mist and drizzle as we arrived and the breeze was beginning to develop into something more accurately described as wind – not ideal conditions for playing (or indeed spectating) but at least we did not have to worry at all about the astro turf playing surface – no leaves or overly industrious moles to worry about here! Looking at the match schedule, it was pleasing to see that we were in Group A…nothing to do with our opponents but more to do with the fact that the Group B pitches were described as being at the 'Graveyard End' – none of us liked the sound of that. Our first game was against St James', Weybridge and we were quickly in the ascendency. We played some very good hockey, we were the better side but could not manage to score. Never mind, it was only the first game, we had started strongly and picked up a point. No need to worry too much about the lack of goals…although the fact that there were no goalkeepers allowed was just floating around as a little nagging issue at the back of my mind. Undeterred, we roared into game 2 against St Michael's, Ashford. It started raining, the sky became even darker, the 'Graveyard End' looked even darker than that… and then the goal drought turned into a goal fest! Artur swerved and weaved his way down the left wing like Lionel Messi with a stick, cut inside the last defender and rolled the ball into the goal for a 1-0 lead. Shortly afterwards, good work by Eleanor & Alex released Artur to score a second from a narrow angle and before the end, Zara latched onto a Messi-like through ball by Messi with a stick to make the final score 3-0 to Holy Family.
A dominant display in game 3 against Stanwell Farm should have resulted in another victory but the goal drought had returned and the game ended 0-0. At least the rain had stopped by this point and we headed into game 4 needing a point to guarantee a place in the semi-final. Unfortunately we were up against one of the pre-tournament favourites 'Our Lady of the Rosary', Staines. They wore yellow and blue…their passing was slick and precise…they were powerful and very skilful. "It's just like watching Brazil" I commented to one of the organisers. "They've got their own astro pitch" was his reply. 'No wonder they're good…I expect they don't have to clear away the leaves and flatten the mole hills over there' was the thought going through my head as the game ended and we had finished on the wrong end of a 3-0 scoreline.
As the tension mounted and the points/goal differences were calculated, Ben (our coach for the 4 week free coaching) approached with a grin as wide as a very happy Cheshire Cat with a shed load of cream. "Big semi-final clash for you with Cardinal Newman" he informed me. My old school were looking powerful, having won all 5 of their group games, so we knew we had a fight on our hands…and so we put in a really big effort. It was a courageous performance, we never stopped working and never gave up. Niamh defended bravely, stopping at least 2 goals with last ditch tackles, Katie ignored her bleeding gum to put in an excellent display, Dino was 'here, there and everywhere' and Oliver provided encouragement to all the team with strong challenges and hard striking of the ball. It was a great team effort but unfortunately we came up against a very strong team with some excellent individual players and were beaten by 4 goals to nil. Thinking about it now, it was definitely the change of pitch that did for us…we played at the 'Graveyard End'.
As Cardinal Newman headed over to play the Brazilians in the final, Bronze medals were still up for grabs down at the Graveyard End as we took on St Cuthbert's, Englefield Green. This was a fabulous game where the tension really did reach fever pitch. Spurred on by our sensational two-person crowd (Mrs Bose & Mr Reardon) we really gave it our all. With Mr Reardon pacing the touchline like a prowling white panther, the action swung from end to end. Mrs Bose looked increasingly desperate to get on the pitch and score the winner for us but the game remained deadlocked at 0-0…then everything seemed to stop as the ball rolled free in the shooting area to a St Cuthbert's player and he slid the ball into our goal. A quick glance at the watch told me we only had 2 minutes to grab an equaliser. With a medal seemingly slipping away, the white panther increased the prowling (and growling) rate and our fabulous team responded with one last monumental effort. Artur embarked on yet another Messi-like run, shot towards goal, Zara deflected it, a defender desperately thrust out a stick and the ball spun in the slowest of slow motion towards the goal line. Everyone held their breath…the panther stopped prowling…and then the Russian linesman from the 1966 World Cup Final returned to award the goal! Brilliant…1-1 and the ball was definitely over the line. 5 minutes extra time could not separate two wonderful teams so it was decided the bronze medals would be shared.
This is a fantastic achievement for the children of Holy Family. To finish in 3rd place at a tournament of 11 schools is great testament to our desire for sporting success. I was extremely proud of every single person on the team – well done, you all played your part! If any sporting clubs out there need an inspirational crowd to spur on their players, I am happy to act as official agent for our 2 wonderful supporters. Mrs Bose and Mr Reardon – thank you so much for the driving, the cheering and the infectious enthusiasm…I will prepare the contracts just in case.
Team – Artur Bose, Oliver Drew, Dino Federico, Alex Beaumont, Zara Pucci, Niamh Reardon, Katie Kollmer, Eleanor Sandri-Healy.