Good News

Lesson 1 - Everyone has good news to share
Click on the link and listen to the story of the Jolly Postman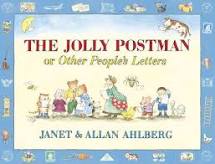 Who received the good news?
How did they receive the good news?
How did they feel?
Talk to someone in your family, tell each other a piece of good news.
Draw a picture and upload it to tapestry or click on Purple Mash and add it to the blog (20th April)
Learning Outcomes
I can talk about how I feel when I have good news to share.

Lesson 2 - Pentecost: the celebration of the Good News of Jesus
Share some of the special ways in which you and other people celebrated the Good News of Easter.
What do you see in the picture?
What do you think is happening?
How do you celebrate Easter: at church, at home and at school?
Alleluia is the Church's special Easter word meaning 'Praise God'
After Jesus had gone back to his Father in heaven, his friends were sad. They missed him. They felt lonely and afraid without him. On Pentecost day, they were all together in the house. They began to feel different. Joy and happiness filled their hearts. It was wonderful. They knew that Jesus had kept his promise to send a new friend, the Holy Spirit.
Based on Acts 2: 1-4.
How did the friends of Jesus feel after he went back to his Father?
Have you ever felt like that? When?
What did they do?
What happened on Pentecost day?
How did the friends of Jesus feel then?
Share a range of activities which explore the effects of the wind.
Blow bubbles in the garden and watch them disappear.
Talk about how you blow air into them and the air carries them away.
Fly a kite. Talk about how the wind lifts the kite and helps it to fly.
Watch and listen to a wind chime. Talk about how the wind enables music to be made.
Learning Outcomes
I can recognise the Pentecost story as a religious story.
I can recognise some religious words such as Pentecost, Good News, alleluia, Easter, Holy Spirit.

Lesson 3 - Pentecost: The celebration of the Good News of Jesus.
Pentecost is often named as the 'birthday of the Church'. The feast celebrates the coming of the Holy Spirit to the disciples. The Holy Spirit is a new friend that Jesus had promised to send them. With a new friend the disciples felt full of joy and happiness. They were no longer frightened and were able to go out and share the Good News with others.