Daily Updates
Friday 19th June
Good morning Year 6,
Welcome to Friday! I hope you've had a great week. You've got some finishing off and organising to do today. Here are today's tasks -
Joe Wicks PE click here Mr Seuke Fitness challenge, or a sporting/exercise activity of your choice.
I have emailed another Year 6 SATs style paper for you to complete. Try to get your to complete as much as you can on your own, but ask for help if you need it. If you cannot print, do the questions where this is not necessary. Answers are included.
For the White Rose Friday challenge at click here
Log on to Timetable Rock stars and challenge your friends to a battle.
Reading read some non-fiction today. Record your reading in your reading journal.
Complete any Special Mission tasks you have started but haven't finished – there will be a new set to complete next week. Have your project book ready for next week if you can, I'm looking forward to seeing them.
In the afternoon, work from the Whole School Learning tasks or why not try some practical home learning. Do you remember the list I sent you with all the practical tasks? Is there anything here you haven't tried?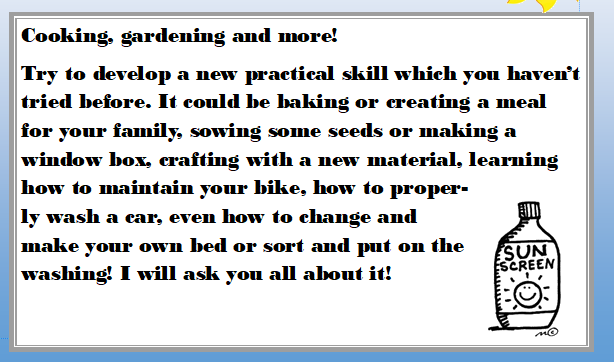 I hope that you have a lovely, restful weekend, looking forward to next week!
Mrs Holt x