4.Thursday 23rd April
The winner of today's story vote was 'Shark in the Dark' by Peter Bently. Click on the link to hear the story. Thank you to everyone who voted on Purple Mash today:)
Shark in the Dark read by Mrs Osborn
Good morning Year 2,
Mathematics today is Week 1-lesson 3- Find a half.
English- For English today I would like the children to pretend to be Twinkletail and write a letter to her Mummy and Daddy thanking them for her birthday party. They could say 3 things she enjoyed about her party. Write some questions in their letter by, asking her Mum and Dad some questions. See if they can use any exclamation sentences (what or how) to show excitement. Please email these to me and I can give your child feedback on their work. I look forward to seeing how they get on. I have uploaded an example as well, just in case they need to see an example.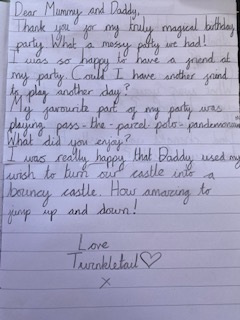 Our topic work today is naming the oceans of the world. Challenge is to see if the children can list them in order of size. There is a sheet attached below and a map to use. You can use Google Earth (On Chrome) to look at where they are on a globe and there is a small piece of information on their about each ocean to help the children to place the oceans in order. If they want to write down the facts to that would be great. You need to zoom in to see a bit more, I clicked on exploration map style, by clicking on the picture of the 2 squares on top of each other on the left hand side of the screen. See picture below.