10. Friday 1st May
Hello Year Two, happy Friday and happy May! How on Earth has it got to May already, this year is zooming by! I am in school today, but will be on the blog at 2pm!
I hope everyone has had a lovely week, even if the weather has been a bit gloomy. I have tried to go for a walk most days but have noticed that the woods where I go are much muddier at the moment!
For Guided Reading today, see if you can answer the questions about the Ocean Home poem. It is good practice to write your answers (you could type them if you'd like some typing practice), but you could just talk about them with a grown up if you prefer. Next week we will have a different sea-themed poem to look at together, I think you will like it!
For maths, have a look at Week 2, Lesson 4 here, make it practical where you need to. https://whiterosemaths.com/homelearning/year-2/
Fancy a maths challenge? Try this! Maths Challenge!
In Science this week you will need to watch six, one minute videos to learn about different groups that animals can be put in to. You need to watch the first six videos here, they all start with 'What Are...' Science Videos
Putting animals in to groups is called 'classification', what a long word! You know how much I love teaching you new words Year 2, so try and remember this one! Then, using what you have learnt, have a go at the Sorting Animals in to Sets sheet where you will classify some animals in to the right groups. If you fancy a challenge, choose some animals of your own and classify those too. Don't forget to email me any of your fabulous work!
Finally, I thought you might like to do a little bit of PSHE with someone in your family. In funny times like this, it can be easy to think about all of things that you can't do at the moment. But did you know, it is really good for your brain and your wellbeing to recognise the things that you have to be thankful for? Have a go at the Gratitude Journal below and if you want to, share with me some of the things that you are thankful for. Here are mine: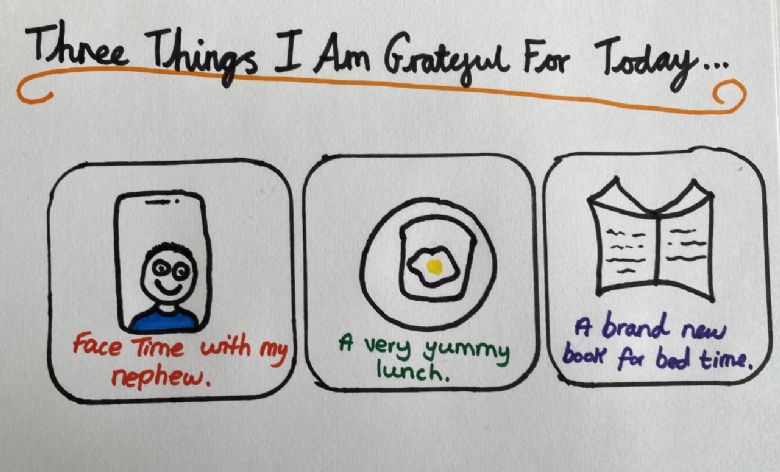 I must not forget story time, I have chosen one that links in with our topic this week! Friday's Story.
Have a super weekend Year Two,
love,
Mrs Ferryman