1.Monday 4th May
Good Morning Year 2,
We are now in our 5th week of home learning and I haven't seen you all since the 20th March! We are now in May! I miss you all lots. I am so proud of how well you are all doing with your home learning and really enjoy seeing your pictures of what you have been up to. Thank you for sending them to me.
Today can you get someone to test you on your spellings? I will be checking Spelling Shed this morning to see who has the top score this week and a certificate will be coming out to you (via email). Some parents might be letting me know how you are getting on with you spellings too. Then move onto SPaG.
In SPaG today I would like the children to complete the adjectives work, see attachment below. There is a PowerPoint which is a recap of what an adjective is, ignore the last slide.
Mathematics today is Week 2- Lesson 5- Equivalence of half and 2 quarters.
Continue with your exercise this afternoon. Look at the photo below and see if you can do the exercises by spelling your name, you could then do your surname or someone else name? I've attached the photo just in case you can not see it properly.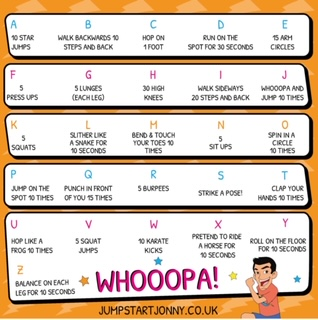 Have a lovely day, I will be on Purple Mash 1pm-2pm, come on and vote for your favourite book for me to read to you on Tuesday.
Mrs Osborn :)