1. Monday
Good Morning Year 1,
I hope you have all had a lovely weekend and enjoyed the snow yesterday. What a lovely surprised that was! Send me some pictures of you enjoying the snow:)
I will be on teams at 8:40 to say good morning and tell you about the work for the day.
Today in Phonics you are going to be learning a new sound, the 'wh' sound. Click here to see the video.
Please have a go at your spelling test this morning and upload it to the one drive. Then move onto the punctuation lesson.
Today we are going to be learning about question marks. One you have watched the Power Point video complete the sheet in your packs about question marks, there is an extension activity to do when you have finished if you want to. You need to cut out and match the questions to the answers. Click here to watch the Power Point video.
Please join me on teams at 11 to show the children how to subtract crossing ten. We will be doing it practically like week. Please print the sheets below ready for the lesson and something small to use a counters.
There is an online game the children can play. 'Mental Maths Train', Click subtraction, then up to 10. Click here to go to the game.
This afternoon is 'The Great Year 1 Bake Off.' I am so excited to bake with you all! I will be on teams at 12:40 to start our bake off. Make sure you have everything ready.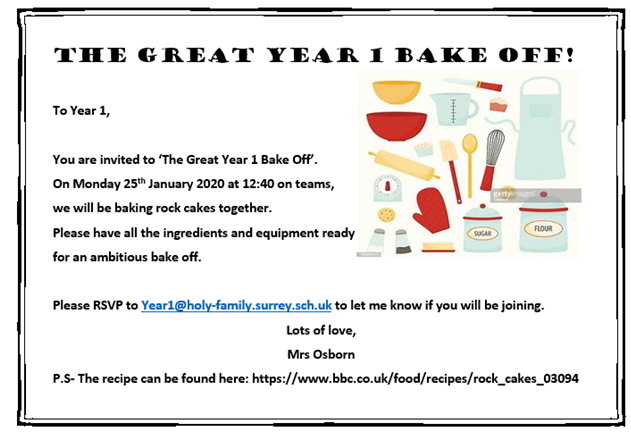 Have a lovely day,
Mrs Osborn