Monday morning news...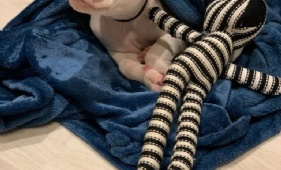 Good morning Year 5-it's Monday.
Well here I am! I have completed my first weekend with Mrs O'Neil and her family, I had such fun. I have my own bed, that I love- it is in the lounge so I can see what everyone is doing. Yesterday, I spent lots of time sleeping, I am only seven weeks old, so I sleep most of the day. When I am awake I love playing with the family- I think they spoil me quite abit! In my basket I'm keeping all my toys- I have a stripy zebra, a ball, a bone and a rabbit. The zebra is my favourite at the moment. I also have new tennis ball from Alfie, I can't wait to get out in the garden to play with it. At the moment I have to stay in the house, I will need to have some injections before I can go outside- I do look out the window and the garden looks great. Time for a snooze- I'll speak to you all tomorrow. Woof...