My 12 week birthday.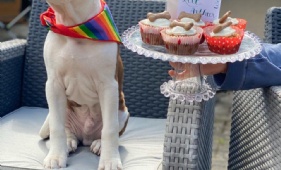 Read about my amazing pupcakes that Mrs O'Neil and Megan made for my birthday.
On Saturday I celebrated being 12 weeks old- the time has flown and I'm growing so fast. We had a little party in the garden and I enjoyed a pupcake. These are dog friendly cakes that are delicious. The have oats, wholemeal flour, bananas and peanut butter in them (you have to buy special peanut butter). They had cream cheese on the top and a bone biscuit. They were amazing and it took me about 2 seconds to eat mine. If you would like the recipe for your dog, ask Mrs O'Neil. I delivered some to a couple of my doggy mates- I left them on the doorstep. When i was out delivering I managed to walk for a whole hour- I'm getting the hang of walkies now!