Good news and bad news.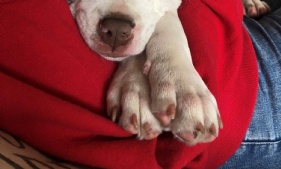 Hello all my lovely readers.
The bad news is that the Easter holidays were quite eventful in our house! During the first week of the holidays I had to visit the vet for the very first time. One afternoon I was really poorly, I was very sick about eight times in an hour. Mrs O'Neil was really worried about me, so she phoned the vets. I had to go straight there in the car- I'm not to sure about travelling in the car, it goes abit fast for me. Mrs O'Neil just had to pass me to the vet at the door, she wasn't allowed to come in with me. They gave me a full check up and I had to have an injection in my bottom (don't laugh). It was decided that I had a tummy bug, so for a few days I had to have cooked chicken and rice for breakfast and dinner- that was delicious, much better than dog biscuits. The next morning I was feeling much better.
The good news is that last week the lovely vet phoned back to say that I could go back to the vet to have my proper jabs, that means that now I can go for a walk. My new red harness and lead are hanging up ona hook and I can't wait to use them and tell you all about my first walk.
My picture shows me cuddling Megan the night I got back from the vets- I think I look poorly so I managed to get loads of sympathy.