Sticks and digging!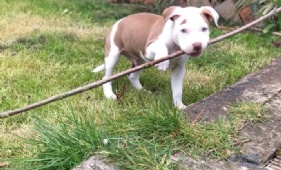 I can't believe that I have been in my new home for two weeks now- the whole family love me and I'm very spoilt. Exploring the garden is my new favourite hobby, I like to be out there most of the time. Unfortunately Mrs O'Neil's house has no fence in the garden at the moment because the house next door is having lots of building work done. No fence means I'm not allowed to be out there on my own. The good news is that our new neighbours have a dog called Buster, he is my new pal. I cannot wait until he moves in and he's there all the time, I'm hoping he can teach me some tricks.
While I'm in the garden I have two favourite pass times- digging and finding sticks. When I'm digging I get told off, I still don't understand why! There are two lovely big holes in the flower beds now.
Sticks- I love them! Look at the picture on today's blog and you will see me with my favourite stick. It is the longest stick in the garden and I've finally worked out how to carry it, when i first found it I kept tripping over it! Woof, woof!
Have a very HOPPY Easter, I shall be back with all my Easter news after the holidays. I hope I get lots of doggy chocolate!